With Halloween around the corner, I thought it appropriate to summarize the future technologies that Daryl Plummer, a Vice President and Fellow at Gartner, conveyed at their Symposium last week.
"The future can be a little scary and we have to be aware it's coming at us fast," stated Plummer. Here are the ones on his 2018 list, a description of what they are and why your organization might be a little shaken by them.
1. Nanotechnology
This deals with matter at a level that most of us find hard to imagine, since it involves objects with dimensions of 100 billionths of a meter or less. It is already here with 3D printing, smart contact lenses and even automobile tires. However, it's difficult to manage in the cybersecurity arena as IoT become smarter and businesses use this technology more and more.
Projected time for mainstream acceptance: Now
2. Software Marketplaces
This is an online store where multiple application vendors come together to sell their products in one place. Businesses such as Amazon, Microsoft Store and iTunes implement this model to provide more profitable software offerings. The concern will be how to police implementation and if deeper levels of support will still be available from the developer in this dispersed acquisition model.
Projected time for mainstream acceptance: Now
3. Real-time Language Translation
While some translation methods are available through Amazon Translate or Google Pixel Buds, there's still a latency of one to three seconds. In addition, these tools don't understand the meaning of what they're translating because the tools are machine language driven, allowing for misinterpretation. Thus, they will not replace human interpreters until natural language is adopted and latency issues are shortened.
Projected time for mainstream acceptance: 2023
4. Smartphone Extinction
Gartner predicts that wearables and digital assistants, such as Alexa and Google Home, will replace smartphones. We will become a strictly text and app driven world, saving conversations for face-to-face interactions.
Projected time for mainstream acceptance: 2023
5. Quantum Computing
While quantum computers still rely on binary (1s and 0s), because of the strange world of quantum physics, each bit can be both a 1 and a 0 at the same time. These bits are called quantum bits or qubits. They are also able to harness the power of quantum entanglement to process multiple or all bits at once and send information across distances faster.
Projected mainstream time: 2028
6. Human Machine Interfaces
Since this technology is somewhat ubiquitous, the interfaces involved can include motion sensors, keyboards and similar peripheral devices, speech-recognition interfaces exchanged using sight, sound, heat and other cognitive and physical modes. It may even have the capability of reading your mind to do certain technology transactions. Scary stuff, right?
Projected time for mainstream acceptance: 2032
7. Swarm Intelligence
This is the coordination of massive numbers of individual technologies, natural and artificial, that will work together without human interference. The swarm is controlled by software and will be helpful in executing a command to hundreds of systems simultaneously. It is a fundamental concept in IT that has been around for a long time but is a bit threatening until regulations are in place about when and how it can be used.
Projected time for mainstream acceptance: Unknown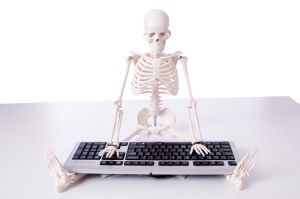 Don't Be Scared! Rentacomputer.com Has You Covered!
We don't want you to worry about the future! Give us a call at 800-736-8772 to speak with one of our experienced account executives who can provide safe and secure technology now and through 2032.
Happy Halloween from all of us!
Want to share this story on social media? Use these hashtags! #Future #Scary #Technology